Mától elindul az RMAH tesztelése a béta szervereken. Minden bétában résztvevő account, kapni fog 50 játékdollárt. amit kénye-kedvére eljátszhat. Ez idő alatt a sima gold alapú ah elérhetetlen lesz, a jelenleg bent lévő tárgyak, visszaszállnak a gazdájukhoz.
update:
Menet közben megszületett az RMAH-hoz a hivatalos oldal cikkje is, amit itt olvashattok.
Forrás: d3sanc, battle.net
Tovább után egy részletes FAQ olvasható, amit a Blizzard adott közre az RMAH-val kapcsolatban.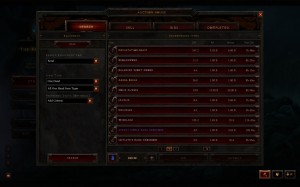 [quote]Diablo III Beta Currency-Based Auction House FAQ
Q. What are you testing?
In order to make sure that the currency-based auction house is ready for the release of Diablo III, we will be providing each beta participant with virtual currency to test the buying and selling of in-game items. This will allow us to assess the way the auction house is used, identify bugs, and test the transaction fees.
Q. Why are you testing this now?
As we approach the release of Diablo III, it's very important that we make sure the auction house meets our highest standards. We're committed to providing a secure, user-friendly service, and this test period is an important step toward meeting those goals.
Q. What happens to my current auctions on the gold-based auction house?
Any current auctions will be canceled and the items returned to your stash.
Q. Can I still use the gold-based auction house during the beta test?
Initially the gold-based auction house will be disabled to focus player trading within the currency-based auction house. The gold-based auction house may be re-enabled sometime later on during the beta.
Q. How much money will I get to use?
All beta testers will be provided with 50 Beta Bucks.
Q. Is this real money? Will I be able to cash it out?
The 50 Beta Bucks are being provided as nonmonetary virtual currency for beta testing purposes only. It will not be possible to cash this money out or to utilize it for any services outside the Diablo III beta test.
Q. What if I spend it all? Will I be able to get more?
We may provide additional Beta Bucks at a future point in time during the beta test process.
Q. Is there a limit to the amount of Beta Bucks players can earn in the beta?
Currently, there is a limit of 500 Beta Bucks for the currency-based auction house beta.
Q. Can players trade gold using Beta Bucks during the beta test?
No, players can't trade gold for Beta Bucks during this phase of the beta test.
Q. If you wipe characters, will you restore our Beta Bucks balance?
In the event of a character wipe, we expect to provide players with another 50 Beta Bucks for currency-based auction house testing purposes.
Q. What are the auction house fees?
During the Diablo III closed beta test, the Seller will incur a 0.15 Beta Buck listing fee and a 0.65 Beta Buck fee per successful transaction in the currency-based auction house. These numbers are not final and are for testing purposes only; they're subject to change.
Q. Will we still get free transactions?
Yes, players will be given a set number of free listings per week. In cases where these listings lead to a successful auction, the transaction fee will still apply.
Q. Will the fees we see in the currency-based auction house beta test be final?
As part of the beta testing process, we will be assessing the final auction house fee structure. We'll provide more information at a future point in time.
Q. Will I be able to access the auction house with a mobile device or through a Web interface?
No, during the beta test the auction house will only be accessible through the game client.
Q. Are these transactions secure?
With the Diablo III auction house, we aim to provide a safe and secure experience to all of our players. We strongly recommended that players utilize a Battle.net Authenticator (either Mobile or the physical authenticator) as an additional layer of security. For more information on account security, visit our support page or view our YouTube video.
Q. Are other currencies available in the currency-based auction house beta test?
The only currency used for this test are virtual "Beta Bucks" that don't have any monetary value and do not equate to any actual currency. This does not reflect our plans regarding international currency operations.
Q. Will there be separate currency-based auction houses in each region during the beta test?
No. For testing purposes only, there will be a single, global currency-based auction house for the duration of the beta.
Q. Will players be able to use mods to "snipe" my auctions out from under me?
Diablo III does not support mods and they are strictly prohibited.
Q. Will I be able to use the currency-based auction house while in Hardcore mode?
No. Hardcore mode is not implemented in the Diablo III closed beta test. When Diablo III launches, players who choose to take on Hardcore mode will not have access to the currency-based auction house. Hardcore players will be limited to buying and selling items from the gold-based auction house.[/quote]